Studio Bloom | Architecture + Design
Mental Health & Well-being | Community Support Spaces
19th February 2020
Loneliness and low self esteem amongst men particularly, but not exclusively, among the retired has become a recognised social issue. The purpose of a Men's Shed is therefore to provide a facility where men can meet regularly, talk, share practical skills in making/ repairing things either for themselves or for others, and come away feeling fulfilled. Men Sheds also get involved in community projects helping to maintain parks and green spaces and making things for schools, libraries, and the like. Further details of Men's Sheds as an organisation may be found on www.menssheds.org.uk
Studio Bloom's most recent proposal for a community shed will provide a space in the heart of the Groombridge Village has been design with the Men's Shed community members to create a space for collaboration and com.
Permitted Development | Do I need planning permission?
28th September 2019
"Do I need planning permission" is one of the key questions we get from homeowners looking to extend, upgrade or improve their properties in and around Tunbridge Wells. The planning process can be a bit of a minefield with many different national and local policies that govern what may or may not be permitted on any given plot or property.
Studio Bloom have put together a small guide to help explain what you can and can't do and how a permitted development extension can dramatically increase the usable space in your home.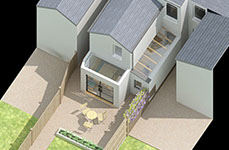 The Forum | Open Call Design Charette
15th April 2019
Studio Bloom have been working with The Forum and RIBA South East to put together an ideas day on the 18th May to get local architects, designers and students to develop and share ideas for the extension of - and to expand the capacity of - the historic Tunbridge Wells music venue.
Young Women in Architecture | Careers Talk @ TWGGS
27th March 2019
Studio Bloom believe strongly in encouraging, supporting and educating the next generation of architects.
Today I gave a presentation at my old school - Tunbridge Wells Girls' Grammar - talking about my career in architecture, the choices I've made and how this has lead to setting up Studio Bloom. The D&T classroom was packed, all of the specially made leaflets were given out (with hints and tips to inspire the students to investigate the world of architecture & design further) and a great Q&A followed. > Zb <
RIBA Chartered Practice
30th December 2018
Studio Bloom are proud to announce that we are now a fully chartered RIBA (Royal Institute of British Architects) practice.
Located in its headquarters in London at 66 Portland Place, RIBA (the Royal Institute of British Architects) was founded in 1837, and is the UK's chartered body for architecture. They focus on the advancement and promotion of architecture and are committed to maintaining high quality, design and customer service.